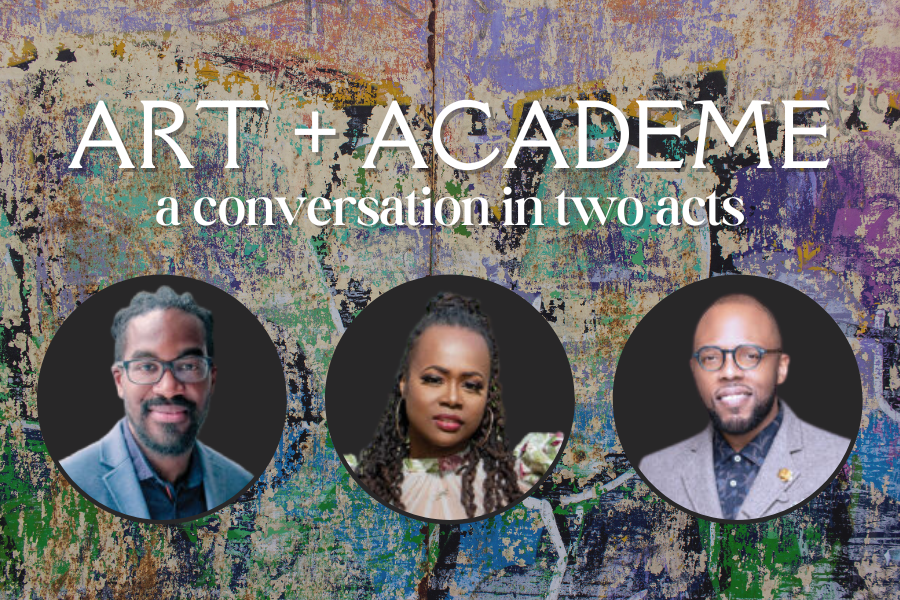 Three leading scholars of Black education will present "Art + Academe" on the UW–Madison campus as a special performance at the close of the 2022 Diversity Forum on Nov. 15.
Art + Academe is a conversation in two acts. The presentation will begin with a discussion between nationally renowned academics Dr. Decoteau Irby, of University of Illinois at Chicago, Dr. Jamila Lyiscott (A.K.A. Dr. J), of Notre Dame, and Dr. Chezare Warren (A.K.A. Augustus), of Vanderbilt University, about the ways that art both facilitates their well-being and influences the justice orientation of their scholarly work. The special presentation will conclude with a live music performance by Augustus and Dr. Irby.
The Art + Academe special feature will begin at 3:30 p.m. on day two of the Diversity Forum conference, Tuesday, Nov. 15, in Varsity Hall in Union South. Registered in-person and virtual attendees will all be able to experience the performance, which will also be available for re-watching after the conference concludes.
The performance will provide an inspiring conclusion to the 2022 Diversity Forum, The Power of Remembering: Reclaiming Our Legacies to Imagine New Futures, which will be held on Nov. 14 & 15 as a hybrid conference with in-person and virtual participation options. In-person registration is now closed, but the public may still register to attend virtually. The Diversity Forum is free and open to the public.
About the presenters
Decoteau J. Irby, Ph.D., is a creator, activist, musician, education leadership professor and author. His activism, art, and scholarship explore the importance of struggle, progress, and equity in education.
Whether through music, encouraging the use of urban green spaces, or creating opportunities for Black people to generate wealth and wellness, his priorities are grounded in "going at it" together and creating space for people to shine. He co-founded Derute Consulting Cooperative in 2013 and created Visioning Black Spaces, a collective of families that pool and invest our resources to improve Chicago's Black neighborhoods.
Dr. Irby is a professor at University of Illinois at Chicago and author or co-editor of several books, including "Stuck Improving: Racial Equity and School Leadership" and a children's book, "Magical Black Tears: A Protest Story." In all his work he is committed to creating spaces that bring people together in community.
Jamila Lyiscott, Ph.D. — AKA Dr. J — is an aspiring way-maker, a community-engaged scholar, a nationally renowned speaker, and the author of "Black Appetite. White Food: Issues of Race, Voice, and Justice Within and Beyond the Classroom." She serves as an associate professor of social justice education at the University of Massachusetts Amherst, where she co-founded and co-directs the Center of Racial Justice and Youth Engaged Research.
Dr. J is most well-known for her TED Talk, "3 Ways to Speak English" and her poem "2053." Dr. J is the recipient of the AERA Outstanding Public Communication of Education Research Award, the AERA Scholar-Activist & Community Advocacy Award, and the CIES Ernest D. Morrell Emerging Scholar Award. Dr. J's scholarship and activism work together to explore, assert, and defend the value of Black life globally. Her research examines the liberatory capacity of literacies in the lives of youth of color, racial healing, youth-led research, and the capacity of African Diasporic culture to transgress white coloniality.
Dr. J serves as co-editor of the journal of Equity & Excellence in Education and holds faculty fellowships at the University of Notre Dame, and Teachers College, Columbia University. In her active efforts to disrupt the bounds of the academy, she has also been featured in Spike Lee's "2 Fists Up," on BBC Radio, NPR, Cosmopolitan, NowThis, and many other media outlets nationally and internationally.
Chezare A. Warren, Ph.D. —  A.K.A. Augustus — is associate professor of equity & inclusion in education policy at Vanderbilt University's Peabody College of Education and Human Development. He is a scholar of race and intersectional justice with an interest in understanding the conditions that enable Black boys' education success.
A former secondary math teacher and school administrator from Chicago, Dr. Warren is the recipient of numerous national recognitions for his scholarship including the 2018 American Educational Research Association Teaching and Teacher Education Early Career Award. He is the author of "Centering Possibility in Black Education" and the award-winning "Urban Preparation: Young Black Men Moving from Chicago's South Side to Success in Higher Education," and has written more than 35 articles, reports, and book chapters. He is a widely sought-after consultant on issues of education equity and has held visiting faculty appointments at Stanford University, the University of Pennsylvania, and New York University.