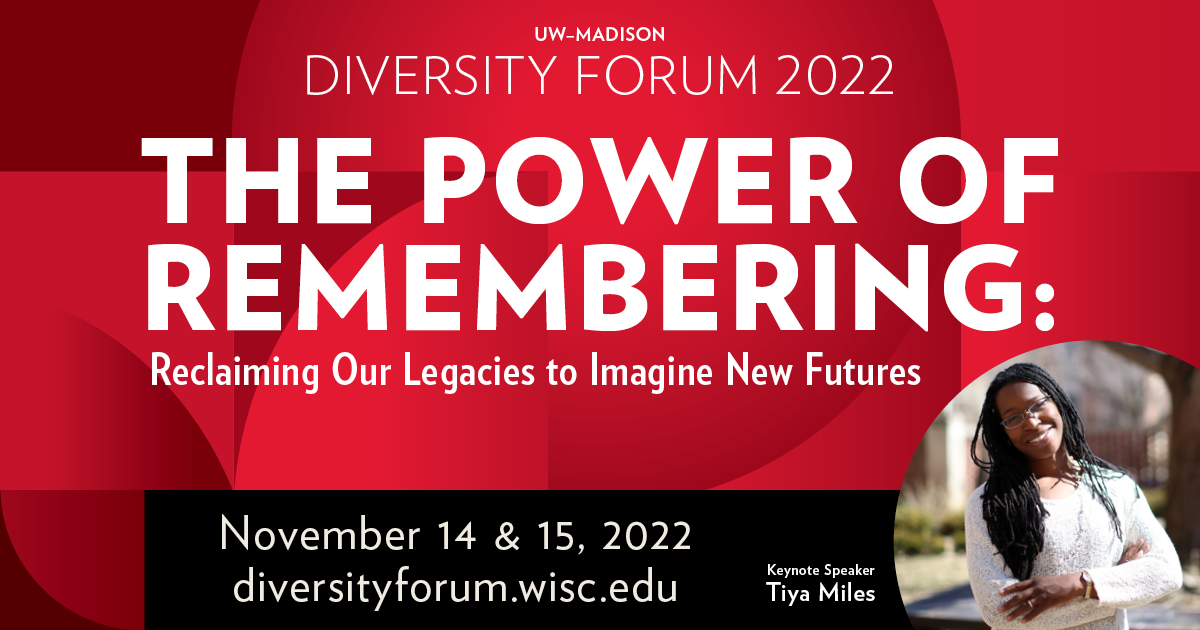 Registration is now open to attend the 2022 UW–Madison Diversity Forum — "The Power of Remembering: Reclaiming Our Legacies to Imagine New Futures" — which will be held Nov. 14 & 15 at Union South with options to participate in-person and online. As always, the Diversity Forum is free and open to the public.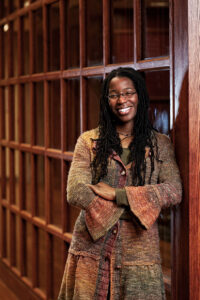 The 2022 Diversity Forum will feature a keynote address by Harvard historian, author and professor Dr. Tiya Miles. A widely esteemed public historian, award-winning author and recipient of the MacArthur Genius Award, Miles's work explores the intersections of African American, Native American and women's histories in the 19th-century American South, Midwest and West. Her latest book, "All That She Carried: The Journey of Ashley's Sack, a Black Family Keepsake," won the National Book Award for Nonfiction in 2021.
The 2022 conference will focus on history: how we can better tell previously untold stories, what we can learn from our shared history and how we can use those lessons to move toward a more equitable and inclusive future. The theme will work in alignment with UW–Madison's Public History Project public exhibit, "Sifting & Reckoning: UW–Madison's History of Exclusion and Resistance," at the Chazen Museum of Art, and the 2022-23 Go Big Read selection, "How the Word Is Passed: A Reckoning with the History of Slavery Across America" by Clint Smith. In-person attendees will have an opportunity to attend a special reception at the Sifting & Reckoning exhibit at the Chazen Museum from 4:30 – 6 p.m. on Nov. 14.
"Our nation is in the midst of a reckoning with our history that is important, sometimes uncomfortable, and long overdue," said Dr. LaVar J. Charleston, UW–Madison deputy vice chancellor and chief diversity officer, whose office organizes the Diversity Forum each year. "As we work to rediscover and share the stories, voices and legacies of the individuals and communities that our society has disregarded for too long, I could not imagine a better voice to bring to our campus than Dr. Tiya Miles. Her work is as vital and fearless as it is compassionate and poignant. I am so excited to bring a scholar doing such important work to the University of Wisconsin–Madison at a time when we are rededicating ourselves to telling the fuller history of our campus and our country."
Conference Details
Dates: November 14 & 15, 2022
Times: 9 a.m. – 4 p.m. Central Time (times are subject to change)
Location: Union South, Varsity Hall (2nd floor), 1308 W. Dayton St., Madison, WI (virtual attendees will receive emailed instructions before the conference begins)
Cost: Free
Contact: events@cdo.wisc.edu
Learn more: diversityforum.wisc.edu
Agenda: go.wisc.edu/df22-agenda
About Tiya Miles
Dr. Tiya Miles serves as the Michael Garvey Professor of History and Radcliffe Alumnae Professor at Harvard University, where she offers courses on African American women, Native American women, abolitionist women and "Black Indian" histories and identities. She is the author of six nonfiction books, the most recent of which, "All That She Carried: The Journey of Ashley's Sack, a Black Family Keepsake," won the National Book Award for Nonfiction and was named one of the best books of 2021 by The Washington Post, New York Times, Slate, Vulture, NPR, The Atlantic and other publications.
"All That She Carried" traces the history of a cotton bag through generations of Black women in America. In 1850s South Carolina, an enslaved woman named Rose gave the sack filled with a few precious items to her daughter, Ashley, as a token of love when the 9-year-old girl was separated from her mother and sold. Decades later, Ashley's granddaughter, Ruth, embroidered this family history on the bag, including Rose's wish that "It be filled with my Love always." In the book, Miles carefully unearths these women's faint presence in archival records to follow the paths of their lives — and the lives of so many women like them — in a singular and revelatory history of the experience of chattel slavery, and the uncertain freedom afterward, in the United States.
A Midwesterner originally from Cincinnati, Miles earned her bachelor's degree in African American literature from Harvard, her M.A. from Emory University and her Ph.D. in American studies from the University of Minnesota. Miles has published essays in The Boston Globe, The New York Times, the Dallas Morning News, The Atlantic and Time magazine.
Her other nonfiction books include:
"The Dawn of Detroit: A Chronicle of Slavery and Freedom in the City of the Straits, 1760-1815" (2017), winner of the Frederick Douglass Prize and American Book Award
"Tales from the Haunted South: Dark Tourism and Memories of Slavery from the Civil War Era" (2015)
"The House on Diamond Hill: A Cherokee Plantation Story" (2010)
"Ties That Bind: The Story of an Afro-Cherokee Family in Slavery and Freedom" (2005)
"Crossing Waters, Crossing Worlds: The African Diaspora in Indian Country" (2006), an essay collection co-edited with Sharon P. Holland