2022: The Power of Remembering: Reclaiming Our Legacies to Imagine New Futures
The 2022 Diversity Forum was held online and in person on Nov. 14 and 15, 2022. The keynote presenter was Tiya Miles, Ph.D., the Michael Garvey Professor of History and Radcliffe Alumnae Professor at Harvard University. Find recordings from all of the sessions plus downloads and links to other resources on our Diversity Forum 2022 page.
2021: Rising Above and Reshaping our World in the Image of Justice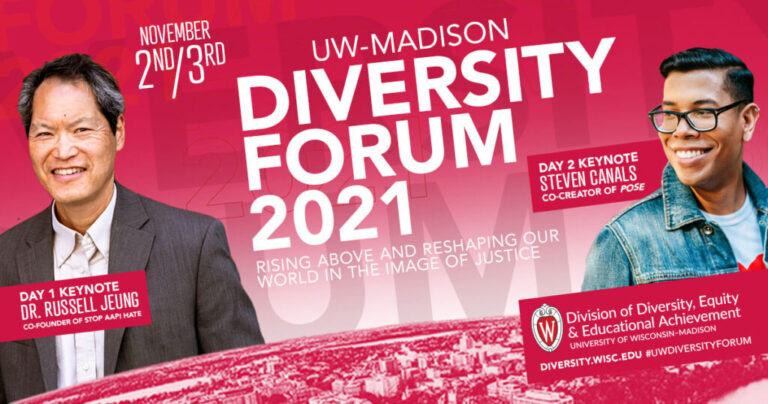 2020: The Pandemic Effect: Exposing racism and inequities
2019: Building Bridges to a Better Future: Opportunities through access and exposure
The two-day conference-style event featured John Quiñones, longtime ABC News correspondent and creator and host of the "What Would You Do?" hidden camera television series.
This is an accordion element with a series of buttons that open and close related content panels.
Day One
Panel Discussion
Should I Say Something? Exploring the Barriers Around Responding to Incidents and Bias

Pia Kinney James, Retired Police Officer, Madison Police Department
Gabe Javier, Interim Associate Vice Chancellor for Identity and Inclusion, Student Affairs
Cleda Wang, Assistant Director of Residence Life for Inclusion, University Housing
Breakout Sessions
Building Equity and Inclusion in Public Schools
John B. Diamond, Kellner Family Distinguished Chair in Urban Education, School of Education
Nichelle Nichols, Executive Director, Office of Equity, Partnerships and Engagement, Madison Metropolitan School District
David O'Connor, American Indian Studies Consultant, Wisconsin Department of Public Instruction
Dom Ricks, Principal of Kromrey Middle School, Middleton-Cross Plains Area School District
Navigating Difficult Discussions: An Interactive Session on Ethical Conversations
Aaminah Long, Coordinator of Inclusion Education, Center for the First Year Experience
Town Hall Discussion
The Discomfort of Public Discourse: Confronting the Legacies of White Supremacy

Kathy Cramer, Professor of Political Science and the Natalie C. Holton Chair of Letters & Science
Kacie Lucchini Butcher, Director of the UW–Madison Public History Project
David Mahoney, Dane County Sheriff
Annette Miller, Founder and Chief Executive Officer, EQT By Design
Patrick J. Sims, Deputy Vice Chancellor for Diversity & Inclusion
Day Two
Breakout Session 1
Reclaiming First Nations' Truth
Jessie Conaway, Faculty Associate for Native Nations Partnerships at the Nelson Institute for Environmental Studies, Co-Chair of the Native Nations — UW Working Group
Brian D. McInnes, Associate Professor of Civil Society and Community Studies, School of Human Ecology
Omar Poler, Coordinator, American Indian Curriculum Services, School of Education
Michael Williams, Co-President of Fiscal Relations, Wunk Sheek
Danielle Yancey, Director, Native American Center for Health Professions, School of Medicine and Public Health
Intro to LGBTQ+ Identities & Inclusive Practices
Tiffany Lee, Crossroads Coordinator, Gender and Sexuality Campus Center
Jelani Riveria, Program Coordinator, Gender and Sexuality Campus Center
Supporting the Wellness and Mental Health of Graduate Students
James L. Keck, Professor, Department of Biomolecular Chemistry, Associate Dean for Basic Research Training
Ellen Marks, Associate Psychologist, University Health Services
Lori Reesor, Vice Chancellor for Student Affairs
Britney N. Washington, Graduate Research Associate in Biomedical Engineering, College of Engineering
Timothy Yip, Doctoral Student, Mead Witter School of Music
Britt Marie Zeidler, Founder and Co-Director, Graduate and Professional Students with Disabilities Initiative
Breakout Session 2
A Stronger Madison for All: Racial disparities in Madison and Wisconsin and the divergent realities they've created
Alex Gee Jr., President and Founder, Nehemiah Center for Urban Leadership Development
Is Age Just a Number? Combatting Generational Stereotypes
Sherry Boeger, Director and Consultant, UW–Madison Employee Assistance Office
Luis Piñero, Senior Special Assistant for Workforce Equity, Diversity Education and Outreach, Division of Diversity, Equity & Educational Achievement
Letissa Reid, Equal Opportunity Investigation Program Coordinator, Office of Compliance
Kristen M. Seguin, Assistant Director of Human Resources, School of Medicine and Public Health
Mass Shootings and Social Media Discourses
Dhavan Shah, Maier-Bascom Professor, School of Journalism and Mass Communication
Breakout Session 3
Creating an Inclusive Environment for Non-Apparent Disabilities
Closing workshop presenter Annette Miller, Founder and Chief Executive Officer, EQT By Design. Photo by Ingrid Laas.

Gwynette Hall, Accessible Learning Technology Manager, McBurney Disability Resource Center

Heather Stelljes, Access Consultant, McBurney Disability Resource Center
Yo Soy Un Pueblo Unido: Investing in Latinx Talent
Tania Ibarra, Finance Chair, Latino Professional Association of Greater Madison
Nicole Sandoval, President, Latino Professional Association of Greater Madison
Deconstructing Social Justice Myths
Caitlyn LoMonte, Assistant Director for Social Justice Programs, Multicultural Student Center
What Will You Do? Equity in Action Workshop
Annette Miller, Founder and Chief Executive Officer, EQT By Design
Breakout Sessions
"Reclaiming First Nations' Truth" — A panel of Native educators and allies explored the work being done, on campus and elsewhere, to resurface the history of First Nations and their continuing sovereignty as nations and cultures.
"A Stronger Madison for All: Racial Disparities in Madison and Wisconsin" — This lecture by the Rev. Alex Gee Jr., Ph.D., explored how the Justified Anger initiative is addressing racial disparities in Madison by creating a movement that coordinates leadership, vision, policy and strategy to identify the gaps in services and areas of need and implement a long-term strategy to improve the lives of African Americans in Dane County by eradicating racial disparities.
"Creating an Inclusive Environment for Non-Apparent Disabilities" — Staff and students from UW's McBurney Disability Resource discussed the experiences of students with non-apparent disabilities to shed light on different supports, resources and strategies to consider when creating an inclusive environment.
"Trans/Forming Allyship: Inclusive Practices to Support Transgender People and Gender Diversity" — This workshop, facilitated by Davey Shlasko, director of Think Again Training, helped participants learn concrete ways of supporting trans individuals while building a broadly gender-inclusive environment for everyone.
"Our Place on Campus: Cultural Centers at UW–Madison" — In this panel discussion, professional staff and students from the UW–Madison Multicultural Student Center offered reflections on the establishment of UW's cultural centers and how those centers have a positive impact on campus climate.
2019 Forum Resources
2018: Power in Numbers: Data-driven decisionmaking for inclusive education
Featuring Keynote Speaker, Talithia Williams, Professor of Mathematics at Harvey Mudd College
The college experience thrives on relationships. Administrators, staff, and faculty frequently make tough decisions that have an incredible impact on our students' lives. But, how can our institutional data be used effectively to cultivate an inclusive campus community? In this talk, Dr. Talithia Williams will explore the changing culture of higher education and discuss effective techniques for recruiting and retaining students and faculty from underrepresented communities. She will discuss her personal journey as a woman of color in STEM and examine current benchmarks shown to be effective in retaining underrepresented students in STEM. Using data to capture the many facets of the problem, she will highlight best practices embraced by institutions that have had success in these areas.
Williams is an American statistician and mathematician who researches the spatiotemporal structure of data and is an advocate for engaging more people from underrepresented groups in STEM fields. She received her Ph.D. from Rice University and was the first black woman to achieve tenure at Harvey Mudd College. She is a co-host on the television series "NOVA Wonders" on PBS.
This is an accordion element with a series of buttons that open and close related content panels.
Day One
Sarah C. Mangelsdorf, Provost and Vice Chancellor of Academic Affairs
Sarah C. Mangelsdorf serves as the provost and vice chancellor for academic affairs and is the chief operating officer and deputy to the chancellor in the academic leadership and administrative management at UW–Madison. Prior to being named provost in 2014, Mangelsdorf was the Dean of the Judd A. and Majorie Weinberg College of Arts and Sciences at Northwestern University.
Patrick J. Sims, Deputy Vice Chancellor for Diversity and Inclusion
Sims has served as Chief Diversity Officer for UW–Madison since 2013 and leads the Division of Diversity, Equity and Educational Achievement, which operates some of the most celebrated and longstanding equity and inclusion efforts in the country and spearheads many of UW–Madison's efforts to improve campus climate and identify and address inequities and biases at the university. In 2018 he was named Deputy Vice Chancellor for Diversity and Inclusion and Elzie Higginbottom Vice Provost. Sims is also a professor in the Department of Theatre and Drama, where in 2004 he founded the Theatre for Cultural and Social Awareness, an interdisciplinary service-learning and outreach effort.
Native November Poetry Reading
Roberta Hill, Professor of English and American Indian Studies
Hill is a professor of English and American Indian Studies and is affiliated with the Nelson Institute for Environmental Studies. An Oneida poet and fiction writer, she has published four books of poetry, including most recently "Cicadas: New and Selected Poetry" (2013). Her poems and stories have appeared in The Southern Review, Northwest Review, American Poetry Review, The Nation, North American Review, The Norton Anthology of Modern Poetry and elsewhere.
Panel Discussion: Making STEM Classrooms More Inclusive
What can predominantly white institutions like UW–Madison do to transform STEM educational settings into more welcoming and inclusive environments for students and faculty from underrepresented groups?
Thomas Browne, Senior Assistant Dean at the College of Agricultural and Life Sciences
Molly Carnes, Co-Director of Women in Science and Engineering Leadership Institute, Director of Center for Women's Health Research
Sherri A. Charleston, Assistant Vice Provost in the Division of Diversity, Equity & Educational Achievement
Kent Mok, Posse Scholar, Hilldale Research Fellow for the Wisconsin Institute of Medical Research
Miona Grae Short, Research Assistant at the Harvard-Smithsonian Center for Astrophysics
Chancellor Becky Blank Remarks
Blank is an internationally respected economist now in her 5th year as chancellor of UW–Madison. Prior to her appointment as chancellor, she spent time in Washington, D.C., working in three different administrations. Most recently, she served as deputy secretary and acting secretary of the U.S. Department of Commerce under President Obama.
Outstanding Women of Color Awards Announcement
Introducing the honorees of the 2018 Outstanding Women of Color Awards. Awards will be presented at a reception in the spring.
America to Me Documentary Screening
The multipart documentary series "America to Me" by Academy Award-nominated filmmaker Steve James (Hoop Dreams, Life Itself) grapples with issues of race and equity in the Chicago-area's Oak Park and River Forest High School through the lives of its students and teachers. The episode being screened, "There Is No Pain That Compares to the Struggle," explores a wide range of issues, including microaggressions by teachers and referees, restorative classroom practices, racial segregation within the school and administrative roadblocks to change.
Following the documentary screening there will be a Q&A with two alumni who were featured in the series, Jessica Stovall and Adam Levin, moderated by School of Education professor Erica Halverson. They will discuss what it was like to be part of the documentary, their work for equity in the school system and their time at UW–Madison.
Town Hall Discussion
Deaths now outnumber births among the white population in 26 U.S. states, demographers at UW–Madison's Applied Population Lab have found, signaling what could be a faster-than-expected transition to a future in which whites are no longer a majority of the American population. This trend has come to be known by a few names in mass media, including the "browning of America" and the transition to a "majority minority country." We will explore the facts of the demographic changes taking place in the U.S., and how those changes are being processed and reacted to in American media, culture and politics.
Karen Menéndez Coller, Executive Director of Centro Hispano of Dane County
Kathleen Culver, Assistant Professor of Journalism and Mass Communication, Director of the Center for Journalism Ethics
Gail C. Groy, Partner at Axley law firm
Sarah Kemp, Applied Population Laboratory Researcher, College of Agricultural and Life Sciences
Benjamin Marquez, Professor of American Politics, Director of Chicano/Latino Studies Program
Day Two
Breakout Session 1
CULTIVATING TRUST BETWEEN POLICE AND THE COMMUNITY
The challenged relationships that exist between police and marginalized groups have been shaped over many years. In this session participants will discuss the role of police in a free society and within the criminal justice system, learn about the philosophy and practice of community policing and identify current challenges that exist in cultivating police-community trust. UW Police Chief Kristen Roman will share various initiatives underway nationally and within the UW–Madison Police Department that endeavor to address existing barriers, engage in relationship building and promote procedural justice and legitimacy in policing.
Presenter: Kristen Roman, Associate Vice Chancellor and Chief of UW-Madison University Police Department
TRANS/FORMING ALLYSHIP: INCLUSIVE PRACTICES TO SUPPORT TRANSGENDER PEOPLE AND GENDER DIVERSITY
Many educators have good intentions about inclusion for all students but lack the tools and understanding to support transgender students and colleagues effectively. In this session participants will gain familiarity with key terms and concepts, common barriers that trans people face, and important resilience factors that they can easily build into their everyday practices. Participants will begin to practice concrete ways of supporting trans individuals while building a broadly gender-inclusive environment for everyone.
Presenter: Davey Shlasko, Director of Think Again Training, Lecturer in Gender and Women's Studies
THE COLOR OF DRINKING AND BEYOND: ALCOHOL AS A SOCIAL JUSTICE ISSUE
This session will examine the intersection of alcohol prevention and social justice and strategies to create a more inclusive environment. For years UW–Madison has been focusing its work on reducing high-risk drinking among the high-risk drinking population. Data show that students of color are some of the university's lowest-risk drinkers. Knowing this, UW–Madison decided to investigate the impact of its alcohol culture on students of color through the Color of Drinking Survey in 2015 and 2017. Findings from both surveys will be discussed in this session.
Presenter: Reonda Washington, Alcohol, Tobacco and Other Drugs Prevention Coordinator
Washington is Substance Abuse Prevention Specialist at University Health Services. Her work involves helping students make healthy choices around alcohol, researching alcohol culture, collaborating with campus partners to build capacity, implementing alcohol prevention programs and data analysis. She has been a member of the UHS Healthy Campus staff since 2013. She is currently examining how the UW–Madison alcohol culture impacts students of color, working with Greek Life on alcohol risk reduction, researching why students go to detox and collaborating with Housing and UW Police on programming for high-risk students.
Breakout Session 2
ADDRESSING SEXUAL ASSAULT AND MISCONDUCT ON CAMPUS
In 2015, UW–Madison was one of 27 institutions of higher education that participated in the Association of American Universities Sexual Misconduct and Sexual Assault Climate Survey. The survey found that more than one in four (27.6 percent) UW–Madison undergraduate female students reported experiencing sexual assault and misconduct. In the spring semester of 2019, UW will participate again in the climate survey and expects to share the results in the fall of 2019. This breakout session will review the 2015 findings and share work done on the recommendations, including UHS' efforts to expand prevention efforts and bystander training, strategies to respond to graduate and professional student needs, an increase in the availability of confidential victim advocacy services on campus and plans for implementing the 2019 survey.
Lauren Hasselbacher, Title IX Coordinator
Marlena Holden, Director of Marketing and Health Communications at University Health Services
OUR PLACE ON CAMPUS: CULTURAL CENTERS AT UW–MADISON
Professional staff of the Multicultural Student Center offer reflections on the establishment of cultural centers at UW, and how those centers complement the work and priorities of the MSC itself and have a positive impact on campus climate. The Black Cultural Center, Amer­i­can Indian Stu­dent and Cul­tural Cen­ter, APIDA Cultural Center and Latinx Cultural Center serve as spaces for students to organize, gather in community and have their experiences centered in the wider narrative of being a Wisconsin Badger. Panelists will discuss national, Big Ten and campus data and research that support the efficacy of cultural centers and their experiences organizing communities of color.
Karla Foster, Assistant Director, Cultural Programming
Gabriel "Gabe" Javier, Assistant Dean of Students and Director of the Multicultural Student Center
CRISIS ON CAMPUS: TURNING MENTAL ILLNESS INTO WELLNESS
This panel of local and state leaders from the National Alliance on Mental Illness will help participants learn about mental illness and what the campus community should know to be better peers and advocates for people living with mental illness in housing, classrooms and workplaces. This session will provide ways to improve the quality of life and promote recovery for people with mental illnesses.
Jessica L. Gruneich, Executive Director of NAMI Wisconsin
Kenia Link, Outreach Coordinator of NAMI UW–Madison
Chrisanna Manders, Associate Director of NAMI Wisconsin
Kristen Roman, past board member of both NAMI Dane County and Journey Mental Health Center, Chief of University Police
Breakout Session 3
HOW DOES MASCULINITY EVOLVE?
What can men do to make sure we are part of moving society forward toward greater social justice and equity? How can men use their lived experiences as fuel to challenge the status quo? An open discussion — with some leading questions — examining how traditional models of masculinity have been the source of oppression and violence, and have impeded male-identifying people from fully experiencing their own and others' humanness. This session will begin a conversation about how to liberate ourselves from the myths of masculinity.
Stephen Montagna, Learning Communities Facilitator at Learning Communities for Institutional Change & Excellence
Raymond Neal, Learning Communities Facilitator at Learning Communities for Institutional Change & Excellence
CREATING GENDER-INCLUSIVE RESTROOMS ON CAMPUS
Facilities Planning and Management often receives requests to retrofit campus restroom facilities as gender-inclusive restroom facilities. In October 2017 UW–Madison established a task force to provide guidance and policy recommendations to FPM with these efforts. In this workshop, members of the task force will discuss their committee's charge, review the first round of recommendations and give a status update of the implementation. With phase two of the task force beginning this fall, panelists will also discuss current efforts to develop a campus-wide usage policy to address the need for providing safe, accessible and convenient restroom facilities.
Gary Brown, Director of Campus Planning and Landscape Architecture
Katherine Charek Briggs, Assistant Director of the Gender and Sexuality Campus Center
Kelly Krein, Assistant Director of Staff and Programs and Campus Organizer
THE CENTER FOR EDUCATIONAL OPPORTUNITY: 25 YEARS OF SUPPORTING ACADEMIC EXCELLENCE
The Center for Educational Opportunity provides an array of services that support academic achievement, retention and graduation among undergraduates who are first-generation college students, students who meet federal income guidelines and students with disabilities. Journey through the last 25 years of CeO's impact and stories of student success. Participants will be inspired to find ways to partner with CeO as it moves ahead into the next quarter-century.
Presenter: Claudia Mosley, Director of the Center for Educational Opportunity
Breakout Session 4
HOSTILE AND INTIMIDATING BEHAVIOR PREVENTION
This session will provide an overview of campus policies on the prevention of hostile and intimidating behavior, how to prevent it and how to address it when it happens. Participants will have the opportunity to work on cases to help them understand what hostile and intimidating behavior looks like and what to do when they experience or see it.
Michael Bernard-Donals, Vice Provost for Faculty and Staff
Patrick Sheehan, Director of Talent Acquisition and Retention
BETTER RELATIONSHIPS, BETTER REALITY: A MEDITATION WORKSHOP
In this workshop participants will start identifying their internal landscapes and ways to change them. The group will mediate, practice breathing techniques, talk and stretch their bodies and imaginations regarding what's possible.
Presenter: Esty Dinur, Director of Marketing and Communications, Wisconsin Union
Dinur is a longtime student and practitioner of spiritual traditions. She has been leading meditations at various spaces in Madison and California and she initiated and led the first-ever meditation room and meditation workshops at the national convention of Veterans for Peace.
2017: Together: Building cultural capacity
This year's annual Diversity Forum was a two-day event featuring keynote speakers Walter Echo-Hawk and Sarah Van Orman, as well as break-out sessions, a campus/community Town Hall Forum and second-day training workshops.
This is an accordion element with a series of buttons that open and close related content panels.
Day One
As a Native American rights attorney since 1973, Walter Echo-Hawk worked at the epicenter of a great social movement alongside visionary tribal leaders, visited tribes in indigenous habitats throughout North America, and was instrumental in the passage of landmark laws, including the Native American Graves Protection and Repatriation Act (1990) and the American Indian Religious Freedom Act Amendments (1994).  Echo-Hawk litigated in many of the epic struggles and has written extensively about the rise of modern Indian nations as a Native American author with first-hand experience, such as his groundbreaking book, In the Courts of the Conqueror: The 10 Worst Indian Law Cases Ever Decided (2010) .  Echo-Hawk also signed copies of his book In the Light of Justice: The Rise of Human Rights in Native America and the UN Declaration on the Rights of Indigenous Peoples.
Breakout Session Resources
Campus Climate Survey Task Force Report
Start from Within Meditation Workshop (PDF)
Undocumented and Uncertain: A Town Hall Discussion on Wisconsin Dreamers:
Day Two
Resources
Cultural Competency Workshops for Mental Health Specialists, Student Service Professionals & Advisors
As the Director of UW-Madison Health for nearly a decade, the Day 2 featured keynote Dr. Sarah Van Orman helped UW–Madison navigate some of the toughest issues around: student mental health, high-risk drinking, sexual assault and outbreaks of meningitis and norovirus. Van Orman is board-certified in both internal and pediatric medicine and she received her medical degree from Mayo Medical School.
Download an accessible PDF of Van Orman's presentation.
Simone Collins, Associate Director for Campus Based Services at University Health Services Mental Health, moderated a panel of diverse students discussing the challenges of navigating systems and institutions to overcome  feeling excluded or marginalized. Students shared their challenges in the classroom and suggest what they need from professionals.   
Workshop Training Session Resources
Recovery from Effects of Childhood Trauma and Adverse Childhood Experiences (ACE) to be Successful in Life and in the Classroom:  Download PDF
Adjusting to UW–Madison's Campus Life No Matter Where You're From: Download PDF
Remaining Accountable to Marginalized Student Populations: Addressing Bias Incidents and Creating an Inclusive Campus Community: Download PDF
2016: ALL INclusive: Our diversity commitment in practice
Keynote Speaker:Rabia Chaudry, a wife, mother, attorney, President of the Safe Nation Collaborative and a National Security Fellow at the New America Foundation.
This year's keynote speaker, Rabia Chaudry, is a civically engaged legal practitioner on federal immigration law, with experience in civil liberties and national security. Chaudry's work with the New America Foundation focuses on the empowerment of and inclusion of American Muslim communities in the national security realm providing cultural competency training to law enforcement, correctional and homeland security officials and providing national security and vulnerability training to Muslim communities and institutions.
Rabia received her Juris Doctorate from the George Mason School of Law and practiced immigration and civil rights law for over a decade before moving into the CVE policy sphere.
Rabia is a 2016 Aspen Ideas Scholar, Fellow of the Truman National Security Project, a Fellow of the American Muslim Civic Leadership Institute, and a Fellow of the Shalom Hartman Institute. She is the public advocate of Adnan Syed, the wrongfully convicted man at the center of the most popular podcast in history, "Serial", and is the co-producer and co-host of the podcast "Undisclosed", with over 70 million downloads. Rabia is a frequent public speaker on CVE, civil rights, faith & gender. Her writing appears in dozens of outlets and her book, "Adnan's Story" will be published in September 2016.
2015: Call to Action: Taking our diversity work into broader, deeper and more inclusive waters
Keynote Speaker: Clarence Page, Pulitzer-winning columnist
Clarence Page is someone who has seen it all, as much a reflection of his occupation as it is of his years. Page is not an "in-your-face" kind of speaker. Rather he is someone who uses the twist of a phrase to drive a point home, sometimes so subtly that the full depth and meaning of what he has said takes a moment to full appreciate. In addressing diversity, he recounted his own first discovery of segregation when he went to visit relatives in Alabama as a youth. His recounting of the episode reveals a type of loss of innocence as he came abruptly against the forces of segregation.
2014: Pulse 2014: Diversity
Keynote Speaker: Rebecca Ryan, entrepreneur, author, founder and co-owner of Next Generation Consulting
Rebecca Ryan is the author of ReGENERATION: A Manifesto for America's Future Leaders (2013) and Live First, Work Second: Getting Inside the Head of the Next Generation (2007). As founder of Next Generation Consulting, Ryan leads the team that best-selling author Richard Florida calls, "One of the most reliable sources for leaders who want to attract and retain the next generation of creative workers.
Ryan is the Resident Futurist at the Alliance for Innovation and a Senior Fellow at CEOs for Cities. She serves on the board of the World Academy for Entrepreneurship & Enterprise (WAE2) and has also been named:
Top 100 Most Influential People, Accounting Today
Communicator of the Year, Women in Communication
Woman of Influence, Business Journal of Greater Milwaukee
Entrepreneur of the Year, U.S. Association for Small Business and Entrepreneurship
Peter Aranda, Executive Director and CEO of The Consortium for Graduate Study in Management
Peter Aranda, Executive Director and CEO of The Consortium for Graduate Study in Management, a non-profit alliance that includes some of the country's best business schools, major corporations and sought-after MBA candidates spoke to Diversity Forum participants on Monday afternoon.
Major General Marcia Anderson, Acting Assistant Chief and Deputy Chief, Army Reserve
Major General Marcia Anderson,  Acting Assistant Chief and Deputy Chief, Army Reserve, has served since 1 October 2011, as the senior advisor to the Chief, Army Reserve on policies and programs for the USAR including force structure, Congressional budget and appropriations process, development of manpower and personnel policies, as well as Department of The Army and Department of Defense Matters.
2013: Diversity and Educational Achievement: A Wisconsin agenda
Keynote Speaker(s)
Professor Sylvia Hurtado, University of California, Los Angeles
Morning keynote speaker Sylvia Hurtado spoke on the impact campus climate has on student success and development in higher education. As a professor and director of the Higher Education Research Institute at UCLA in the Graduate School of Education and Information Sciences, Hurtado also has been the Director of the Center for the Study of Higher and Post-secondary Education at the University of Michigan and was named by Black Issues In Higher Education among the top 15 influential faculty whose work has had an impact on the academy. Hurtado recognized UW-Madison for being actively engaged in learning and training on diversity through the UCLA-based HERI before it was a hot topic.
Professor Derald Wing Sue, Columbia University
Afternoon keynote speaker Derald Wing Sue, a pioneer in the field of multicultural psychology, multicultural education, multicultural counseling and therapy, and the psychology of racism/antiracism, spoke about the impact of 'micro-aggressions,' or the small infractions of disrespect, that people inflict on one another both consciously and unconsciously. Derald Wing Sue is Professor of Counseling Psychology and Education in the Department of Counseling and Clinical Psychology at Teachers College and the School of Social Work, Columbia University.
He was the Co-Founder and first President of the Asian American Psychological Association, past presidents of the Society for the Psychological Study of Ethnic Minority Issues and the Society of Counseling Psychology. Described as a pioneer in the field of multicultural psychology, multicultural education, multicultural counseling and therapy, and the psychology of racism/antiracism, he has done extensive multicultural research and writing in psychology and education long before the academic community perceived it favorably, and his theories and concepts have paved the way for a generation of younger scholars interested in issues of minority mental health and multicultural psychology. He is the author of several books, including Counseling the Culturally Diverse: Theory and Practice, Overcoming our Racism, and Understanding Abnormal Behavior.
Katherine Lipper, J.D., EducationCounsel LLC.
Katherine E. Lipper is a policy and legal advisor at EducationCounsel. A former seventh grade English and reading teacher, she focuses on the issues of access and diversity in elementary, secondary, and higher education.
2012: Embracing our Past to Chart our Future
Keynote Speaker: Lani Guinier, Civil Rights Attorney and First Tenured Black Woman Professor at Harvard
In 1998, Lani Guinier became the first black woman to be appointed to a tenured professorship at Harvard Law School. Before joining the faculty at Harvard, she was a tenured professor for ten years at the University of Pennsylvania Law School. During the 1980s, she was head of the voting rights project at the NAACP Legal Defense Fund, and served in the Civil Rights Division during the Carter administration as special assistant to then-Assistant Attorney General Drew S. Days. Guinier came to public attention when she was nominated by President Bill Clinton in 1993 to head the Civil Rights Division of the Department of Justice, only to have her name withdrawn without a confirmation hearing. Guinier turned that incident into a powerful personal and political memoir, Lift Every Voice: Turning a Civil Rights Setback into a New Vision of Social Justice. Dean of Yale Law School Anthony Kronman calls Lift Every Voice a "moving personal testimony, a story of dignity and principle and hope, from which every reader can take heart."
While a member of the faculty of the University of Pennsylvania Law School, Guinier investigated the experience of women in law school, leading to the publication of a book, Becoming Gentlemen: Women, Law School and Institutional Change. She and her co-authors found that women were not graduating with top honors, although women and men came to the school with virtually identical credentials. The author of many articles and op-ed pieces on democratic theory, political representation, educational equity, and issues of race and gender, Guinier has written The Tyranny of the Majority (Free Press, 1994) about issues of political representation; Who's Qualified? (Beacon Press, 2001) written with Susan Sturm about moving beyond affirmative action to reconsider the ways in which colleges admit all students; and The Miner's Canary (Harvard Press, 2002), written with Gerald Torres about the experience of people of color as a warning or "canary" signaling larger institutional inequities.
A graduate of Radcliffe College of Harvard University and Yale Law School, Guinier has received numerous awards, including the 1995 Margaret Brent Women Lawyers of Achievement Award from the American Bar Association's Commission on Women in the Profession; the Champion of Democracy Award from the National Women's Political Caucus; the Rosa Parks Award from the American Association for Affirmative Action; the Harvey Levin Teaching Award, given to her by the 1994 graduating class at the University of Pennsylvania; and the 2002 Sacks-Freund Teaching Award from Harvard Law School. She is the recipient of 11 honorary degrees from schools which include Smith College, Spelman College, Swarthmore College, and the University of the District of Columbia.