Among the most popular features of the 2022 Diversity Forum were the live graphic recordings on massive sheets of white paper tucked in the corner of Varsity Hall.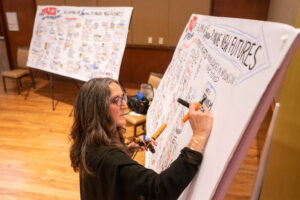 The colorful graphic visualizations, hand-drawn by Wisconsin artist Sherrill Knezel of Meaningful Marks, artfully displayed the themes and messages of the sessions as the conference progressed.
UW–Madison hosted the 2022 Diversity Forum, The Power of Remembering: Reclaiming Our Legacies to Imagine New Futures, as a free, hybrid conference on Nov. 14 & 15 in Union South. You can watch recordings of all sessions from the conference at diversityforum.wisc.edu.
Knezel created seven graphic recordings during the two days of the conference covering sessions, including the keynote address by Dr. Tiya Miles on day one and the Art + Academe special feature at the close of day two.
You can view all seven of the graphic recordings below. Tap on any image to view a larger version.