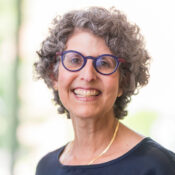 Speaker
Andrea Steinberger
Rabbi at the Hillel Foundation
Rabbi Andrea Steinberger has been serving as a rabbi at the Hillel Foundation at the University of Wisconsin-Madison since 1999. In an ever-changing world, her deep spirituality, thoughtfulness, and compassion have created a welcoming sense of community and home for Jewish students on campus. She is a teacher, a learner, a questioner, and a spiritual seeker. At UW Hillel, Rabbi Steinberger provides opportunities for students to explore spiritual practices, experience Jewish learning, ask difficult questions, and come together for Shabbat and holidays. She helps students create and expand their Jewish lives and practices during their college years at the University of Wisconsin-Madison.
Rabbi Andrea received her ordination from the Hebrew Union College-Jewish Institute of Religion in 1997 and her BA from Northwestern. In March 2022, she received an honorary Doctor of Divinity from HUC-JIR for serving 25 years as a rabbi in the Reform Movement.
Speaking in
Day 2:
November 15, 2023 |
2:30 p.m. – 3:45 p.m.,
Main Session
Campus community faith leaders Rabbi Andrea Steinberger, Reverend Erica Liu, and Professor Asifa Quraishi-Landes will discuss the role that religion plays in our intersecting identities and how we might move forward collectively in community, though we may have religious differences.