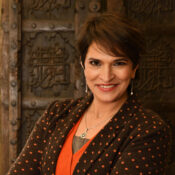 Speaker
Asifa Quraishi-Landes
Professor of Law
Asifa Quraishi-Landes specializes in comparative Islamic and U.S. constitutional law, with a current focus on modern Islamic constitutional theory.  She is a 2009 Carnegie Scholar and 2012 Guggenheim Fellow. 
 
Professor Quraishi-Landes holds a doctorate from Harvard Law School and other degrees from Columbia Law School, the University of California-Davis, and the University of California-Berkeley, and has served as law clerk in the United State Court of Appeals for the Ninth Circuit.  She has served as a Public Delegate on the United States Delegation to the United Nations Commission on the Status of Women, the Task Force on Religion and the Making of U.S. Foreign Policy for the Chicago Council on Global Affairs, and as advisor to the Pew Task Force on Religion & Public Life.  She is past President of the National Association of Muslim Lawyers (NAML), and past Interim Co-Executive Director of Muslim Advocates and past President and Board Member of Karamah: Muslim Women Lawyers for Human Rights. She currently sits on the Board of Directors of the Muslim Public Service Network and is a Fellow with the Institute for Social Policy and Understanding. 
Speaking in
Day 2:
November 15, 2023 |
2:30 p.m. – 3:45 p.m.,
Main Session
Campus community faith leaders Rabbi Andrea Steinberger, Reverend Erica Liu, and Professor Asifa Quraishi-Landes will discuss the role that religion plays in our intersecting identities and how we might move forward collectively in community, though we may have religious differences.