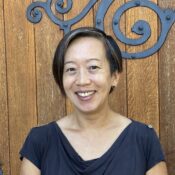 Speaker
Erica Liu
Pastor and Director of Campus Ministry at Pres House
Reverend Erica Liu has served as the Pastor and Director of Campus Ministry at Pres House since 2004. She is a second-generation Taiwanese-American who grew up in the San Francisco Bay Area of California. She lives in Madison with her partner, Mark, and together they have two daughters. Erica has a B.A. in Mass Communications from UC Berkeley, a Master of Divinity from Princeton Theological Seminary, and is an ordained minister in the Presbyterian Church, U.S.A. Some of her favorite spiritual disciplines include practicing the martial art taekwondo and Sabbath.
Speaking in
Day 2:
November 15, 2023 |
2:30 p.m. – 3:45 p.m.,
Main Session
Campus community faith leaders Rabbi Andrea Steinberger, Reverend Erica Liu, and Professor Asifa Quraishi-Landes will discuss the role that religion plays in our intersecting identities and how we might move forward collectively in community, though we may have religious differences.