Public History Project Reception
Day 1:
November 14, 2022 |
4:30 p.m. – 7:00 p.m.,
Chazen Museum of Art
Session Materials
Session Description
After day one of the Diversity Forum concludes, a limited number of attendees will have the opportunity to attend a special reception for the UW–Madison Public History Project's public exhibit: Sifting & Reckoning: UW–Madison's History of Exclusion and Resistance.
You must have pre-registered to attend this reception because space is limited. The free reception will be from 4:30 p.m. to 7 p.m. at the Chazen Museum (750 University Ave.). Food and beverages will be provided. Transportation will be available between Union South and the Chazen Museum. Please email events@cdo.wisc.edu with any questions or accommodation requests for this special event.
The Sifting & Reckoning exhibit takes a thematic approach to UW–Madison's history, allowing visitors to see the multifaceted ways that racism and exclusion permeated campus life, and how the community responded, organized and resisted. Visitors can engage with objects from the UW Archives that are rarely displayed and oral-history interviews with people who fought exclusion on campus, allowing visitors a vivid, intimate account of the university's history.
Discussion with 'Throughline' Podcast Co-Creators
During the reception, the Public History Project will host a special conversation from 5 to 6 p.m. with the co-hosts of NPR's popular "Throughline" podcast: Rund Abdelfatah and Ramtin Arablouei as part of their campus visit as UW's Journalists in Residence. Kacie Lucchini Butcher, the director of UW's Public History Project, will join them in the conversation about how we understand and tell our shared history and what we can learn about ourselves and our futures from looking at our past. Professor Christy Clark-Pujara will moderate the panel discussion.
Speakers
Rund Abdelfatah is the co-host and producer of "Throughline," a podcast that explores the history of current events. In that role, she's responsible for all aspects of the podcast's production, including development of episode concepts, interviewing guests, and sound design. Abdelfatah joined NPR in 2014 as an intern and went on to become a producer on a number of NPR's most popular podcasts, including "How I Built This," "TED Radio Hour," "NPR Politics," "Code Switch," and "Pop Culture Happy Hour." The concept for "Throughline," launched in February 2019, was developed by Abdelfatah and her co-host, Ramtin Arablouei. Abdelfatah got her start in journalism covering local and domestic politics at the Washington bureau of the BBC. She earned her bachelor's degree in anthropology, with a minor in Spanish, from Princeton University.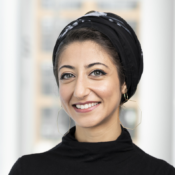 Ramtin Arablouei is co-host and co-producer of NPR's podcast "Throughline," a show that explores history through creative, immersive storytelling designed to reintroduce history to new audiences. Arablouei got his start at NPR in 2015 with a three-week contract to produce a pilot for "How I Built This with Guy Raz," and now produces, reports, mixes, and writes music for such top-rated podcasts as "TED Radio Hour," "Hidden Brain," "Embedded," "Invisibilia," "The Indicator," "Code Switch," "Radio Ambulante," and the Center for Investigative Reporting's "Reveal." Born in Iran, Arablouei emigrated to the U.S. with his family as a child. He graduated from St. Mary's College of Maryland with a bachelor's degree in psychology and history.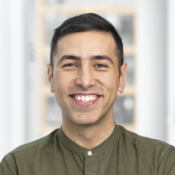 Kacie Lucchini Butcher is a public historian whose work is dedicated to building empathy and advancing social justice. She is the director of UW–Madison's Public History Project. She has worked in museums and for community organizations, helping communities reclaim their narratives through collaborative public history projects. She has experience engaging marginalized communities through historical partnerships, creating and sustaining community-centered archives, and producing historical research that foregrounds social justice. Her previous projects focused on how history is connected to the present, in efforts to explore and question systems of inequity and oppression. She is active in the public history community — hosting events and community conversations, attending trainings and editing publications — and she serves as the co-chair of the Membership Committee for the National Council on Public History. She earned her master's degree in Heritage Studies & Public History from the University of Minnesota.
Christy Clark-Pujara, Ph.D., is a historian whose research focuses on the experiences of Black people in French and British North America in the 17th, 18th and early 19th centuries. She is particularly interested in retrieving the hidden and unexplored histories of African Americans in areas that historians have not sufficiently examined — small towns and cities in the North and Midwest. She contends that the full dimensions of the African American and American experience cannot be appreciated without reference to how Black people managed their lives in places where they were few. An absence of a large Black populace did not mean that ideas of blackness were not central to these places' social, political, and economic development. Her first book, "Dark Work: The Business of Slavery in Rhode Island," examines how the business of slavery — economic activity that was directly related to the maintenance of slaveholding in the Americas, specifically the buying and selling of people, food, and goods — shaped the experience of slavery, the process of emancipation, and the realities of black freedom in Rhode Island from the colonial period through the American Civil War.