How to Be a Confident Pluralist
Keynote
Day 1:
November 14, 2023 |
9:00 a.m. – 9:45 a.m.,
Varsity Hall
Session Video
Session Description
Conflict entrepreneurs—operating both inside and outside our borders—have recently turned the dizzying and wonderful pluralism of the U.S. into the backdrop for a culture war. Countering the conflict entrepreneurs is necessary to reanimate the promise of democracy. This requires learning how to be a confident pluralist. A confident pluralist is committed to defending a baseline picture of universal human rights; is committed to non-violence and free expression; is able and eager to engage productively across a wide range of viewpoints, backgrounds, lived experiences, perspectives, and identities; and is skilled at converting disagreement into purposive negotiation and shared learning.
Speakers
DR. DANIELLE ALLEN—Dr. Danielle Allen is a professor of public policy, politics, and ethics at Harvard University, Director of the Allen Lab for Renovating Democracy at the Harvard Kennedy School's Ash Center and James Bryant Conant University Professor, one of Harvard's highest honors. She is also a seasoned nonprofit leader, democracy advocate, national voice on pandemic response, distinguished author, and mom. Her work to make the world better for young people has taken her from teaching college and leading a $60 million university division to driving change at the helm of a $6 billion foundation, writing for The Washington Post, advocating for cannabis legalization, democracy reform, and civic education, and most recently, to running for governor of Massachusetts. During the height of COVID in 2020, Allen's leadership in rallying coalitions and building solutions resulted in the country's first-ever Roadmap to Pandemic Resilience; her policies were adopted in federal legislations and a Biden executive order.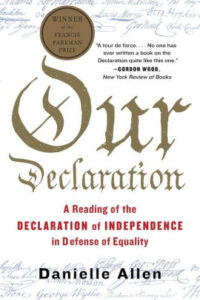 Allen made history as the first Black woman ever to run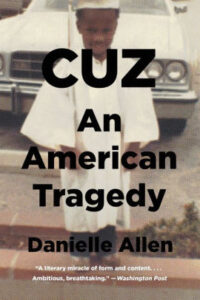 for statewide office in Massachusetts. She continues to advocate for democracy reform to create greater voice and access in our democracy, and drive progress towards a new social contract that serves and includes us all. Her many books include the widely acclaimed Our Declaration: A Reading of the Declaration of Independence in Defense of Equality;   the memoir, Cuz: The Life and Times of Michael A, and, most recently,
Justice By Means of Democracy, a bold and urgent articulation of a new political philosophy: power-sharing liberalism. She is a recipient of the MacArthur Foundation "Genius" grant and the John W. Kluge Prize for Achievement in the Study of Humanity, an award administered by the Library of Congress that recognizes work in disciplines not covered by the Nobel Prizes.